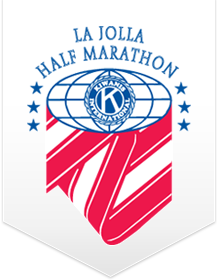 This was the second time I raced the beautiful La Jolla Half Marathon. I definitely have a preference for triathlons over straight running events, but I make an exception for this one. The course is just beautiful and there are two challenging hills to contend with.
My time this year was about 1.5 minutes slower than last year – essentially going from an average 8:55 minute mile to a 9:05. The hills seemed just as hard! Nevertheless, my nutrition strategy really went perfectly this time – one Shot Block every 20 minutes, and water at every hydration station. Because this race is so well supported, there's no shortage of stations, and I felt very well hydrated throughout. I also experimented with compression leggings, which may or may not have made any difference (my legs felt fine during the race, and were sore afterwards as usual).
I guess I could be tempted by the America's Finest City Half, which is part 3 of the "Triple Crown" in this series, and maybe the Carlsbad race as well – we'll see if my schedule allows it.