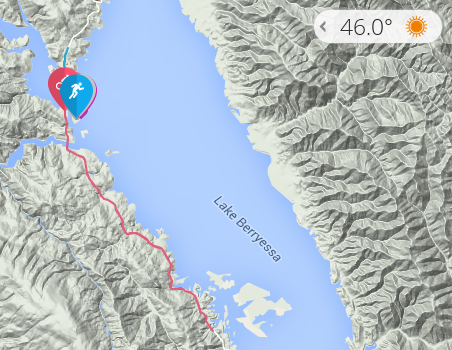 Last weekend was the HITS Napa triathlon. I had read about this race somewhere as a beautiful course in a cool location, so I was game. It's also a very early season triathlon, which helps balance out my year. In the weeks leading up to the event, however, we did two skiing trips to Whistler and I came down with a nasty case of food poisoning, which really screwed up my training schedule. This was also my first race with my new Cervelo P2, so naturally I was a bit apprehensive about riding it in a competitive situation… A week before the race, I asked them if I could switch from the olympic distance to sprint, which they did no problem. The HITS people are really well organized and put on a great event!
I left Seattle Friday night for Sacramento and met my parents at the airport. I was extra careful packing the bike this time given that it's all carbon fiber – I wrapped everything in bubble wrap and made sure there weren't any small extra parts that could fall out in transit. From the airport, we drove down to American Canyon (just south of Napa) to our hotel. One mistake I made in planning this trip was not paying enough attention to distances between the various activities. It turns out the race is at Lake Berryessa, over an hour's drive from where we were staying on small winding roads. Our other destination for that Saturday – Point Reyes – was in the opposite direction.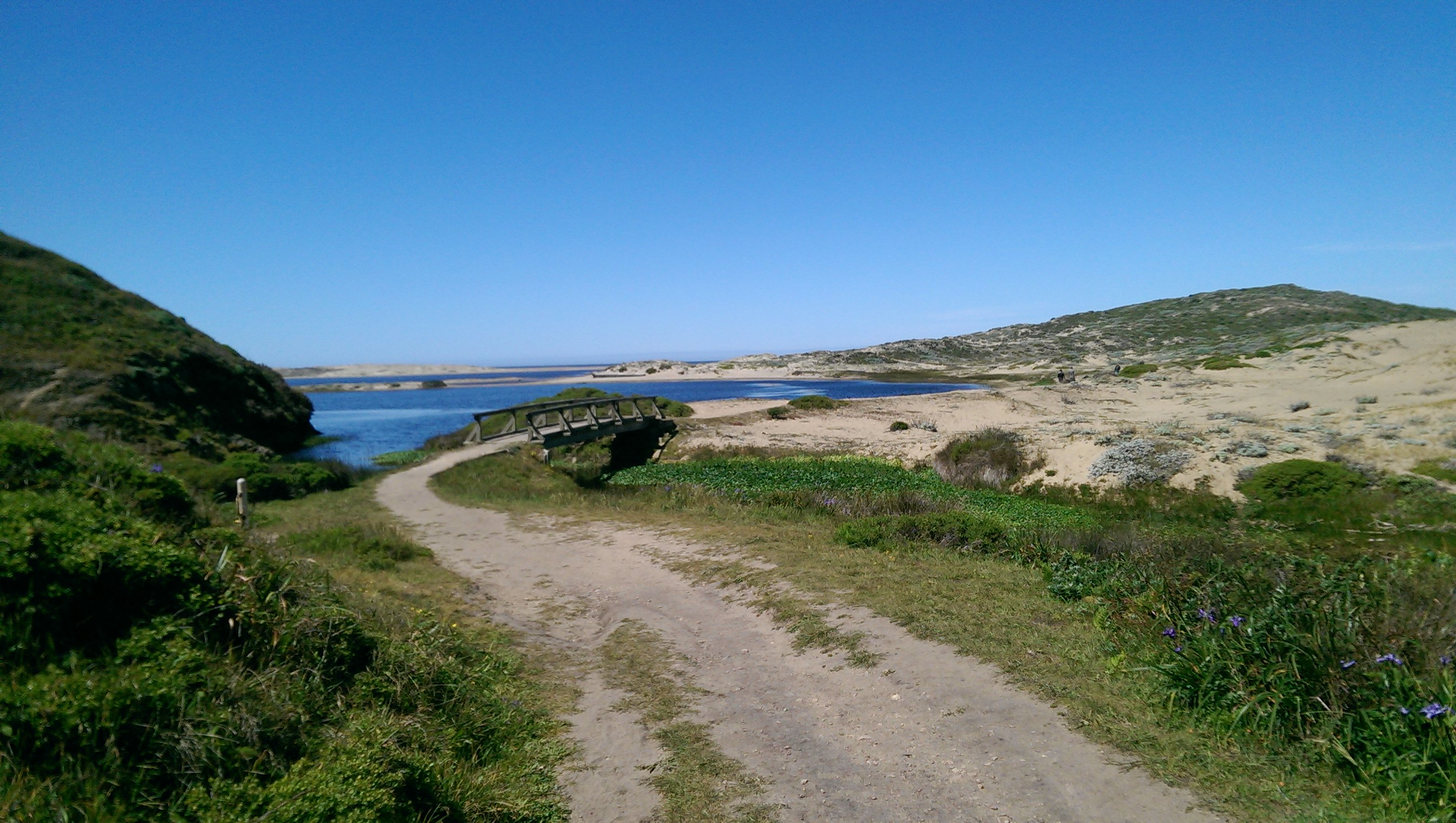 Nevertheless, we started out Saturday morning for Point Reyes. The entire area is really spectacular – rolling hills and open fields dotted with oak tree groves – it's what I think of as "classic" California. The drive to Point Reyes was just really neat – it's a spectacular place for bike riding (and a good workout with all the hills). The only trouble is that many of the roads lack appreciable bike lanes.
We did two hikes down to the ocean – it was like seeing California before Western civilization came: you see spectacular flocks of birds (that are increasingly rare), and very few structures other than some historical ranches.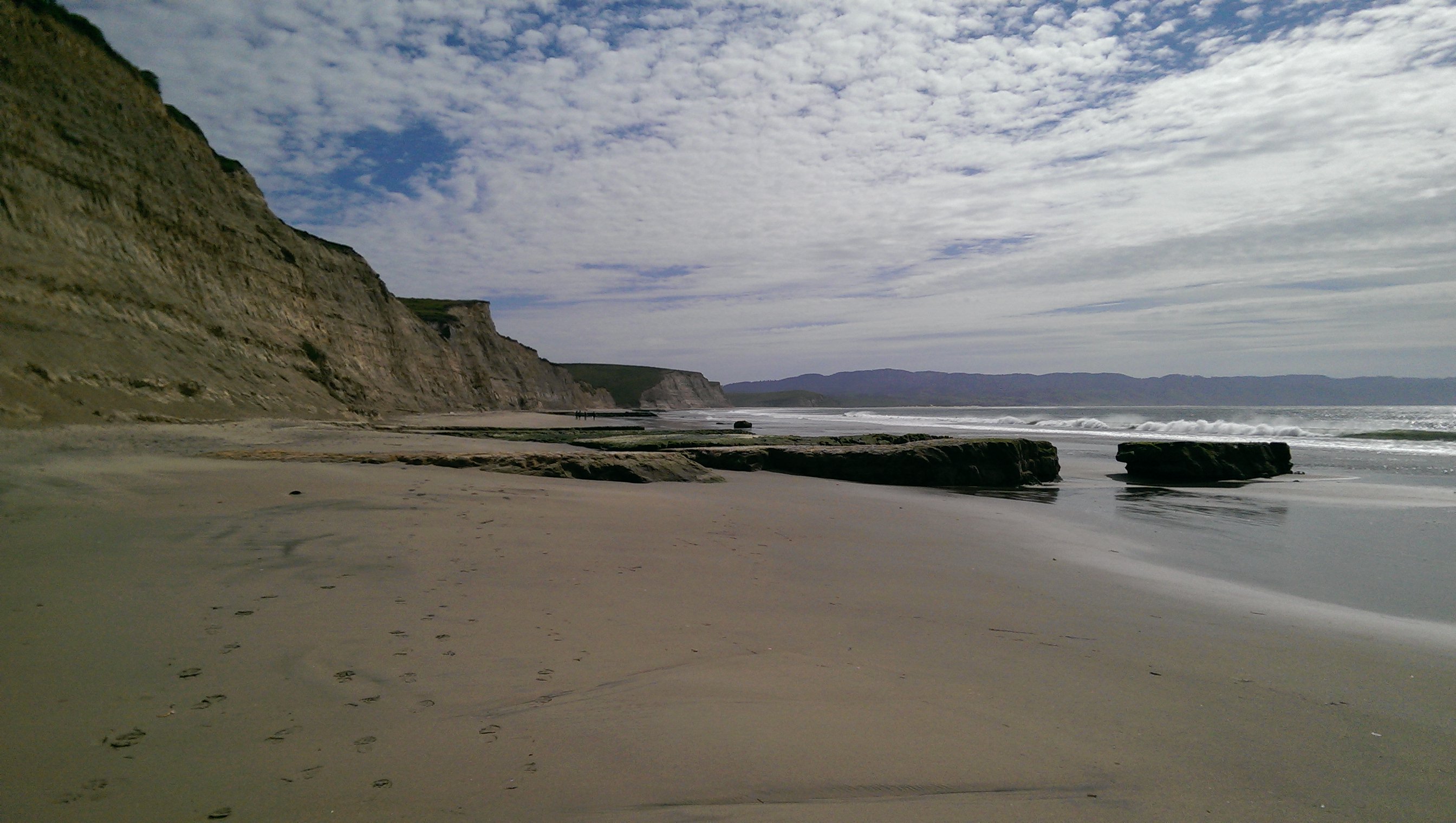 We got lunch after that and returned to the hotel, where I assembled the bike. Then we got back on the road (now it was about 6 PM) for the drive to the race course for packet pickup. We arrived around 7 and got the materials – again, everything was really organized. I had to find a CO2 canister (since you can't bring these on airplanes) but fortunately one of the bike shop tents was still open. While we were there, some of the Ironman-distance athletes were trickling in. By then, it was going on 14 hours for them, and they looked about ready to expire. It seemed sad that they should be completing such an epic undertaking with only a handful of people around to see it – if I ever do an Ironman, I want it to be a *big* race with a *big* celebration at the end! These guys were true athletes – they'd probably do the race if nobody was there at all.
We didn't get back to the hotel until after 9, so I definitely didn't get as much sleep as I had hoped. We left at 4:45 the next morning for the race. We drove on in the dark, without really any cars on the road, and then one by one picked up another set of headlights here and there. By the time we turned off onto Lake Berryessa, there was a long convoy of cars as far as you could see in either direction, just as the light was starting to collect in the east.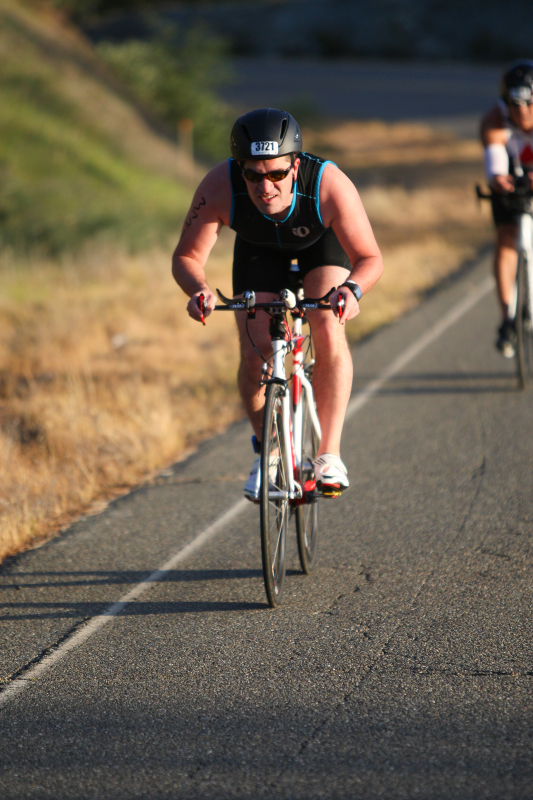 Everything went smoothly (in contrast to the Florida race I did last October), and I had plenty of time to get set up. My wave was the first to start, and it was a shock to the system jumping in that cold lake water. This was the coldest swim leg I've had so far, and it a good 10 minutes for me to start warming up, and transition took a bit longer than usual due to my numb hands. But it felt good to get out on the bike and start working again to warm myself up.
What became quickly apparent this time was that, unlike every other race I've done, I wasn't getting passed on the bike. There were a couple of athletes around me who were my speed, but for the first time ever I felt like I was holding the line after the swim. The bike also handled wonderfully – time-trial bikes love going fast, and they feel very stable with speed even tucked into the aero position. I went upright on the handlebars going uphill and for flat and downhill portions I was aero. I didn't notice any soreness except for my neck, which was due to having to peek up under the helmet to see.
In contrast to an olympic race, the bike leg just flew by. I was pulling back into transition feeling great. The transition to the run wasn't as painful as it usually is either. Maybe this was due to a few more brick workouts than normal, but honestly I think it was just the shorter distance.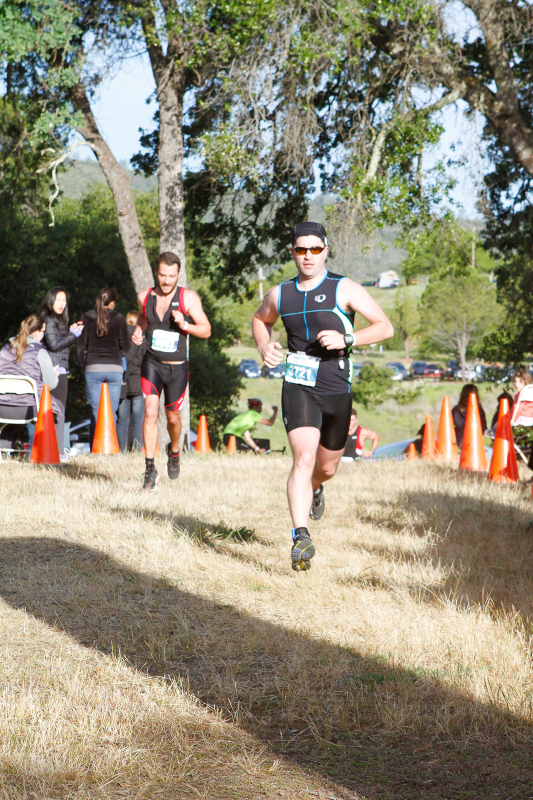 I finished the race feeling strong and not nearly as blasted as usual. The results completely surprised me – I took second in my age group and 39th overall! I *never* expected to do that well and was left trying to figure out what happened. I think the single biggest factor was having a fast bike. Normally, I'm doing pretty well coming out of the swim, but then quickly drop waaaay back on the bike. This time, I only dropped a few places on the bike, which was a massive improvement. I dropped quite a bit on the run, though, which is definitely something I'm going to focus on. Also, this was the first sprint distance I've done in over a year, and I think my body had grown accustomed to the longer olympic distance, so that might have had something to do with my times as well. Finally, I was really well rested for this race (other than the preceding night), so I'm sure that was a factor too.
Whatever it was, I was very pleased with how things went and left the event energized and motivated for the next race. The course as advertised was pretty cool – the bike portion is along the edge of the lake and provides views of the rising sun coming up over the water. It is definitely rolling up and down – there's very little flat at all. But the grades are moderate – I never got out of the saddle going up any of the hills. The run was very moderate as well – gently up on the way out and gently downhill on the way back. The only hard part about the race is it's relative remoteness – I think by far the best strategy is to camp at the race site the night before – there were plenty of places available. If you stay in Napa, it's still a solid one hour drive on windy roads to get to the transition area.
The next day we (of course) visited a Napa winery and got a bunch of bottles before heading back to the airport. Like the Florida trip last year, it was a *very* busy weekend but I came back feeling fantastic! The Napa HITS Triathlon certainly isn't as famous as it's cousin the Vineman, but the location is fabulous and it's a well-supported and organized event.