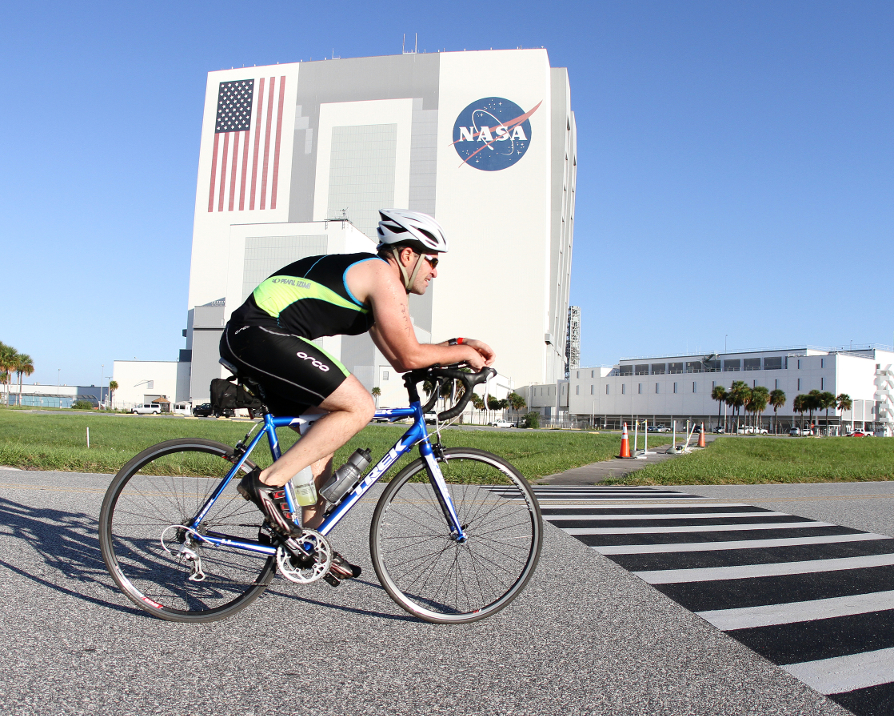 I've always been fascinated with the history of space flight, in particular the early NASA programs: Mercury, Gemini, and Apollo. So when the opportunity came up to actual ride my bike around the launchpads at Kennedy Space Center, I naturally signed up. This would be a quick trip – leave Seattle on Friday morning and return Sunday night. Because my time was so limited, I needed to make sure all the logistics were carefully lined up. Packet pickup was on Saturday, which included a ticket to the Kennedy Space Center Visitor Center, so I planned to spend all day exploring this and Merritt Island Wildlife Reserve, and of course assembling my bike and dealing with any issues that came up. I'll write another post about Cape Canaveral itself – here's the race report.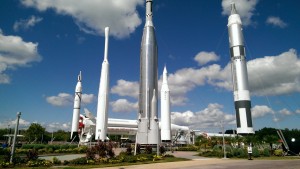 This is the second year the Rocketman Florida race has been run. I understand they changed the course a bit this year to get us more time actually within the Space Center, with a run around the historic aircraft of the Valiant Air Command. Usually mere civilians aren't permitted to roam around the launch pads (you can take a tour bus there), so this was a really special opportunity. In other words, a recipe for an absolutely awesome race!
I'd heard from some of the other athletes that the organization last year wasn't that great, and this year I think was better but still added needless hassles. For example, for packet pickup you needed to go wait in one line for your numbers, then another one for your swim cap, then another to get marked, then another (not clearly labeled) to pick up the all-important Kennedy Space Center tickets. All this was done in the hot Florida sun. I was wearing my sandals, and every minute or so while I was waiting in line these little black ants would crawl up my feet and sting my ankles, making me progressively crankier and crankier! It's beyond me why they couldn't just include all these items in the "packet" that, as indicated by the name, you're supposed to just pick up. And they didn't have timing chips, so we had to grab these the morning of the race. I think they're still working out the bugs since it's such a new race.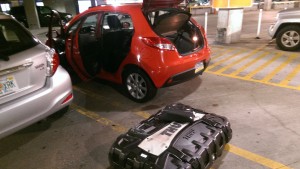 I parked my tiny rental car (shown here next to the bike box for comparison) next to the pickup area. My bike box just barely fit inside, and I had to keep the seats pushed up a bit forward. I pulled out the box on the lawn and put everything together – this is always a bit nerve racking since TSA inevitably opens up the box and I'm anxious something will be broken or won't make it at all.
The morning of the race, I left my hotel in Cocoa Beach in plenty of time to have a relaxed set-up. The transition area was in a field adjacent to the Astronaut Hall of Fame, but I was surprised to learn upon arriving that you couldn't make the normal left-hand turn into the parking lot. WTF? I kept driving to a gas station did a U-turn only to then discover that you couldn't turn right into the parking lot either! Now I was starting to get a bit anxious. I got back onto the freeway and approached the entire place from the other (the only other) direction. Fortunately, some quick work with Google Maps got me there. But then I drove aimlessly around the parking lot looking for an empty spot – nobody to assist directing traffic or anything was helping. Finally, I found a spot and grabbed my self-contained all-purpose race bag (I put everything in one giant backpack for simplicity), and started speed-walking to the transition area. Of course, on the way I heard the announcer announce 3 minutes until the transition closed, then 1 minute, and then he asked everybody to exit. Ah snap! I hadn't flown all the way across the country to be DSQ'd because I didn't get my transition set up in time!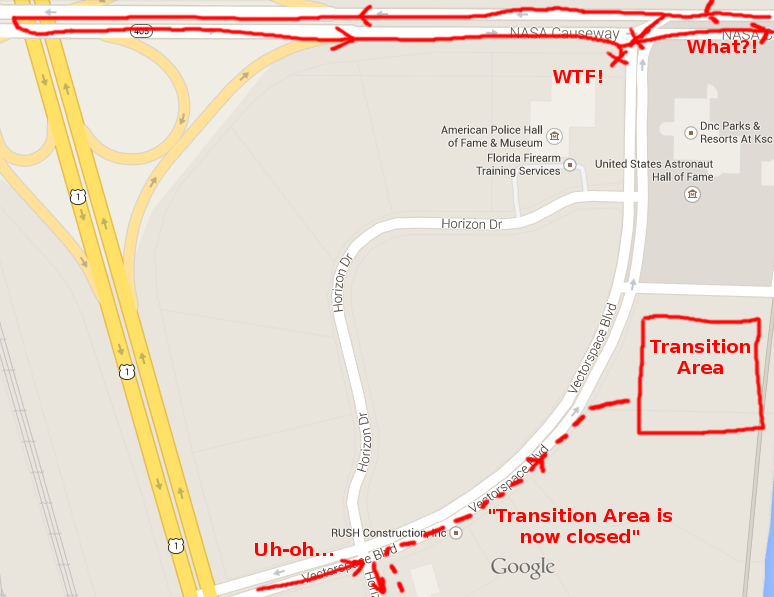 I ran into the transition area, and did the fastest set-up (by a significant margin) that I've ever done before. I managed to verify that, yes, my bike still had two tires and at least the front one seemed reasonably full (so much for topping off the pressure). I figured the most important thing at this stage was my swim cap and goggles, so I made sure I had those. I then had to hunt around to find the person with the timing chips. In retrospect, I'd have been better off had I never done this, since my times were so lousy… Oh well.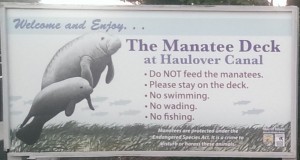 After all this rushing around, I proceeded to stand around with my wave…for about twenty minutes. The swim was in the Indian River, which is about five feet deep. In the race instructions, they mentioned manatees might be in the water – how cool is that! I didn't see any during the actual swim, but I did see some the previous morning…
We all got out to the line and when we started, many people just started running! I can't say I've ever seen this before – I was swimming (damnit, this is my best leg!) but I don't think I was making any better time. This was the first time in a while that I didn't have a wetsuit (the water was all of 81F) and I think my trisuit top was a bit baggy and slowed me down some. Nevertheless, the swim felt fine.
I ran into T1 and happily I'd set up everything I needed and both tires proved reasonably functional. The bike leg is definitely the most awesome part of the course – it's totally flat and you have these long stretches of straight road so you can just cruise along.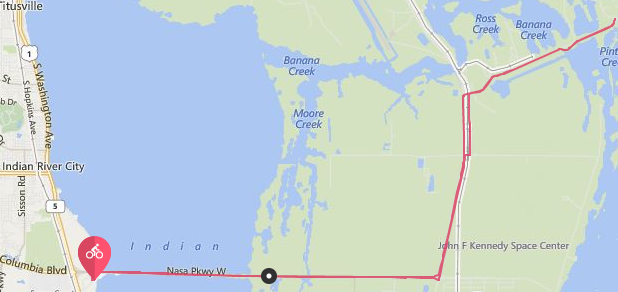 We rode past the Visitor Center entrance, into the gate, and then made a big left turn towards the iconic Vehicle Assembly Building. This is the massive hangar in which various space vehicles are put together. You can see the thing from many, many miles in all directions (did I mention Florida is flat?) and because it's so huge, it actually takes longer than you'd think to reach it. By that point, the course had really thinned out, and I don't think I had any cyclists within .25 miles in either direction. So it was just this cool feeling of riding your bike out around the Space Center.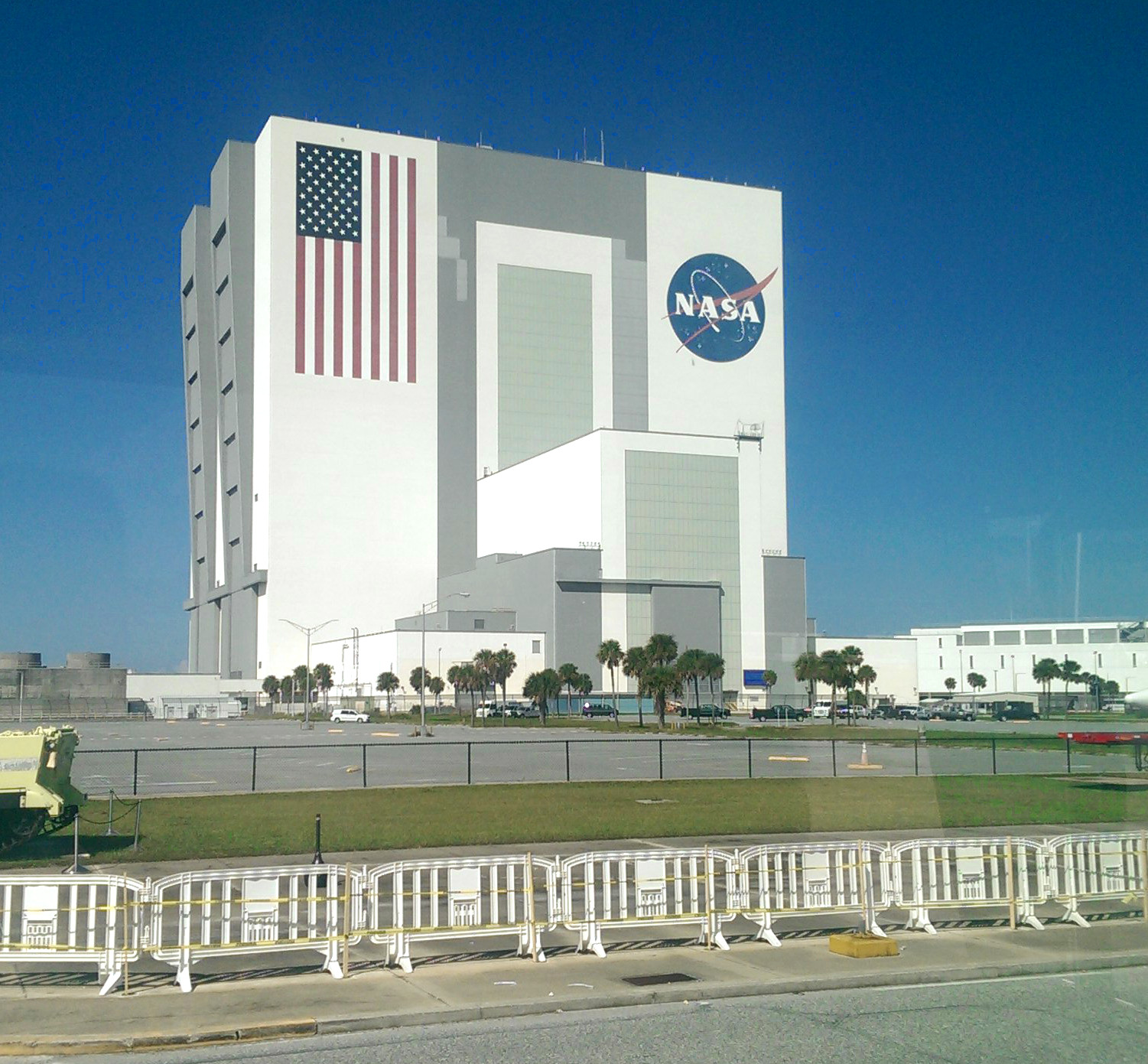 We rode past the Vehicle Assembly Building and next passed the gigantic crawler that transports the spacecraft out to the launch pad. Again, riding a bike next to this thing was just so cool! The turn-around was out at Launch Pad 39A, the site of many famous launches.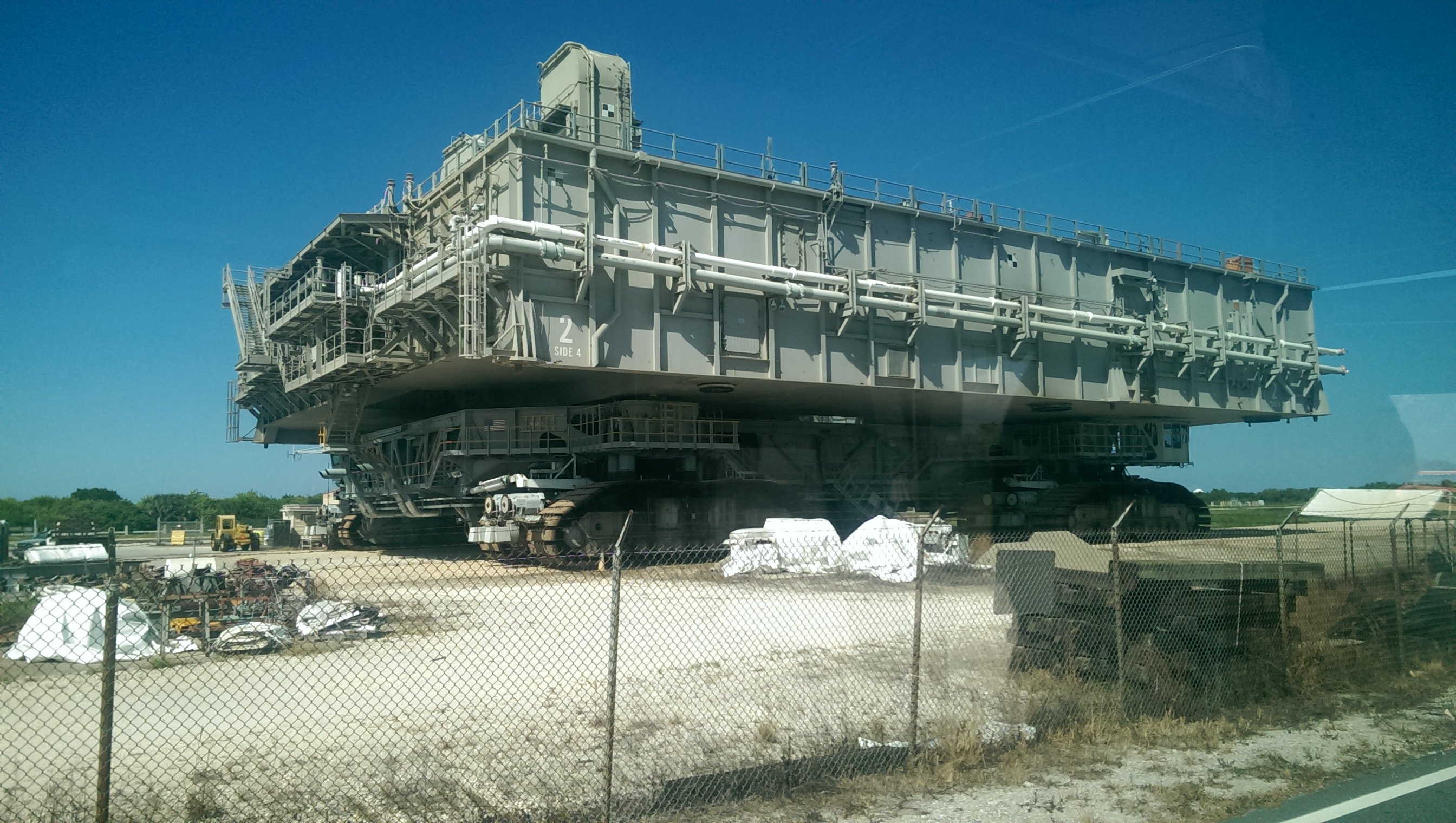 The bike leg for this race was 29 miles both for the "classic" and for the "international" distances, which is really unusual (though totally understandable given the location). The half-Iron was 56 miles because of some bonus loops thrown in. Nevertheless, this was the longest bike leg I've ridden so far. It was also getting rather hot out, and I'd gone through one bottle of sports drink and one bottle of water with still 6 or so miles to go. The problem with dehydration is that, once you get behind, it's hard to catch up. I pulled into T2 feeling fine but knowing I had already lost a ton of hydration ground and needed to try everything I could to catch up. I chugged a bunch of water and sports drink as I was getting my shoes on.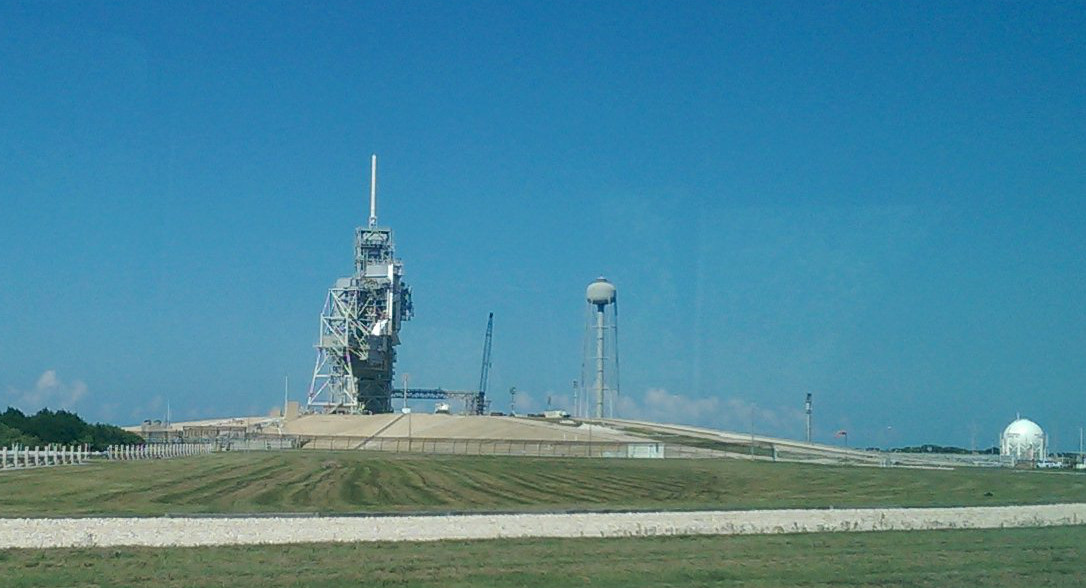 The run course is almost all on roads and is largely devoid of protection from the sun. It was also well into the 80s, so I quickly started to suffer. After the first aid station around mile 2, I started alternating running and walking, which was really, really frustrating since I've never had such a lousy run. At any rate, I tried to enjoy the course, which wound through some really neat historic aircraft owned and restored by the Valiant Air Command Museum. If only I had more ability to enjoy them! After that, the course winds around the airport a bit and turns around.
I think many, many people were having a tough race, since there were lots of walkers. I was just so damn hot (by my standards at least) and despite taking water at every aid station I came to, I just couldn't seem to get my running mojo back. After a long, long couple of miles, you near the finish and (like Black Diamond), they throw in a bonus loop right at the end! AHHHHHH! I pushed as much as I could into the finish but then felt really pretty crummy.
I parked myself in some shade and started downing sports drink and pouring water over my head. After 10 minutes or so of this, I felt better. But going back to the transition area to retrieve my bike was punishing – in the direct sun and very hot. Something about my physiology doesn't do well with heat and honestly it was a challenge getting everything packed up and making sure I didn't leave anything. My legs were cramping pretty badly and I started walking my bike back. At one point I decided to ride a bit to at least spin my legs and get some fresh breeze. Well, I promptly almost fell off in the parking lot as my left calf decided (without my approval) to contract hard. I had to stop and stretch it out before continuing.
The ride and swim were pure fun – if I could have skipped the run somehow, it would have been an awesome race! I'm not exactly sure what the problem was – probably a combination of being under-trained and racing in weather that I'm really not accustomed to. If I do it again, I think I'll stick with the Classic distance – man, I was so jealous of those folks turning around on the run while we were only 1/4 of the way into it.
Nevertheless, it's a great race and gives you an excuse to be a tourist at the Space Center, which alone is worth the trip.