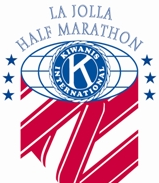 This is probably one of the prettiest courses I've ever run, and also has the benefit of being five minutes from my parent's house where I grew up. It is also a difficult course, with a decent hill up from the beach to Torrey Pines and then another, smaller hill in La Jolla that hits you right before the end. I had the benefit of having run much of the course many, many times before when I go home to visit the family.
Going up to Torrey Pines is a great training run. You go from the beach up the grade, do a very scenic loop on the Guy Fleming Trail (not part of the half-marathon course), and then continue up past the visitor center to Broken Hills Trail where you can descend again back to the beach (also not part of the actual course). The half-marathon follows much of this route.

Being a Lazy Athlete, I didn't spend much time training, and did a 11 mile run the week before on the Waterfront Trail in Port Angeles (incidentally, the site of the Port Angeles Half-Marathon, which I ran the previous year). Since the weather in Seattle has been wet, I've done most of my running indoors on a treadmill. I usually do four 7:30 minute miles, which is convenient to do before I get on the 7:55 AM ferry to Seattle. Sometimes I will do three 7 minute miles instead, but mostly lately it's been these sort of quick workouts.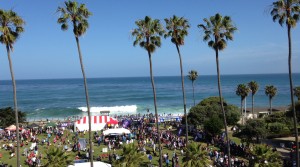 Anyway, my lackadaisical training schedule served me OK for the race, and I didn't have any problems. I did a sub-two hour race on a tough course, which was my target, so I was happy.