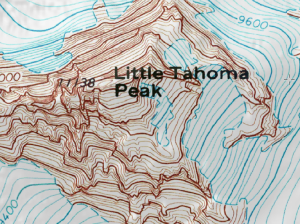 Little Tahoma is the third highest mountain in Washington. It's Rainier's little sidekick, which is exactly what it looks like when you view the mountain from Seattle. But there could be a hundred people climbing Rainier any given summer day and Little T will be almost deserted.
Our approach was via the White River Trailhead. It's a couple of miles on good trail to Summerland (the first bit is really quite flat, followed by a few switchbacks). Summerland is a delightful meadow area with a number of overly-friendly marmots.
From there, you leave the trail and ascend two somewhat steep snowfields to a very picturesque mesa. It's actually one of the coolest base camps I've ever seen – you camp on dirt and gravel almost in the shadow of Little T. One thing to note, though, is that after the first couple of miles, the rest of the trip is totally devoid of shade. As with many summer glacier climbs, staying cool and un-sunburned is a far greater concern than staying warm…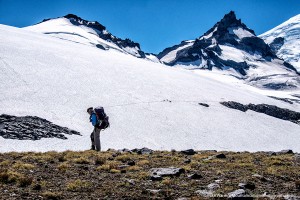 I recently bought a new Fly Creek ultralight 2-person tent from Big Agnes and have been using this in lieu of a bivy sack since the thing only weighs about 2 pounds. My thinking was that I'd sleep better in my own 2-person tent than either (i) a bivy sack, or (ii) sharing with another big, hairy dude. In general, it has worked out well, but on this particular spot the wind kicked up a bit and the tent walls started sounding like a spinnaker in a gale. I went to bed at probably around 7 PM but did not sleep one…single…wink for the next six hours! By the time 1 AM rolled around (our wake-up time), I was actually relieved since at least it was a break in the tedium of listening to the flapping and wondering if my tent would be torn to shreds (actually, the tent did just fine and there wasn't even that much wind…it just sounds bad).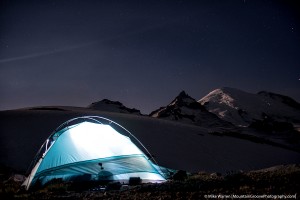 We roped up and set off across the glacier towards Little T. The mountain looks waaaaay closer than it actually is, and it took a good bit of time to get to it. We ascended a steep, crumbly rock rib and dropped down onto the glacier on the other side. Little T (and Rainier in general) is notorious for really crumbly rock – it's pretty much as if a massive dump truck emptied its load of bowling-ball sized rocks over the entire area. So rockfall was always a concern. We stayed very close together going over the thing, on the theory that any loosened rock wouldn't have much time to gather momentum before hitting the next guy.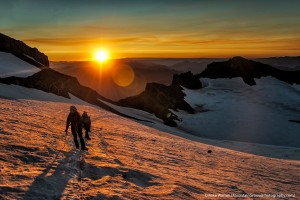 The sun came up behind our backs, which was a spectacular sight. We crossed the second glacier and turned right and up to start ascending a steeper part to the summit. That's where it started getting sketchy. This year was really light on snowpack, so the conditions in the early morning were hard and scary. It's the sort of thing where you really wished you had two ice tools instead of just the axe (that would have made it easy).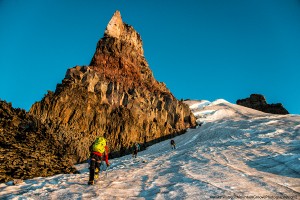 We protected our route with pickets and pushed on. One section got steep enough to employ the famed "piolet panne" technique – you stick the blade in at about chest height and place your palm right on top of the adze. That allows you to essentially push vertically up on your axe to get your feet higher. I was actually fine with that, but what worried me was being roped up in such a situation – if one of the other guys on my team started to go, I wasn't overwhelmingly confident I could arrest the fall. The pickets provided a bit of comfort, but it was a bit of a hair-raiser. I guess that's what guides feel all the time…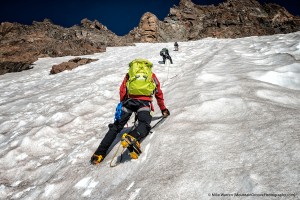 After ascending the steep bit, we exited the glacier to get onto the final bit of rock. After what we'd just been through, crappy crumbly rock felt like complete luxury! We scrambled up a few hundred feet to the summit, which gives you views of the massive side of Rainier as well as panoramas of all of Washington.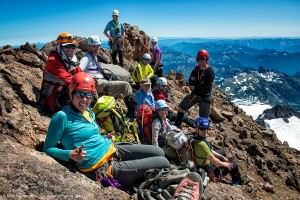 Unfortunately, the crappy snow conditions absolutely killed our pace. We made the trek back to base camp (by then, the snow had softened up to my infinite relief) to pump water and stow our tents. It was a happy moment after so much struggle, but we still had miles to go with heavy packs before we got to the cars. That last bit of trail just kept going on and on and on – no matter what, the last 10% of any trip is just plain drudgery for me. It was dark but I just couldn't bear to put on my headlamp (that would be admitting that yes, this was approaching an epic). We were back at the cars at 10 PM.
It was a great trip with fabulous folks, but the conditions were pretty challenging. Some of our guys who had climbed Little T three or four times before thought this was the hardest they'd seen. The lesson is how critical snow conditions are for both safety and speed. You don't always get nice squishy plunge-stepable snow!
All photos are courtesy of Mike Warren, who has an extensive collection of mountaineering photography at www.mountaingroovephotography.com. Climbing mountains is hard. Mike does it while carrying several pounds of camera equipment!